As discussed a couple of posts ago, integral seal tags were a thoroughly useful tool, but the slit vellum, had a built in weakness - the small unslit portion could tear, as can be seen from a number of damaged period items. So new types of seal tags were developed, such as the separate seal tag. I've previously outlined the differences between integral seal tags and separate seal tags, today's post is to provide some examples of this type of sealing.

Examples are again, roughly chronological, with links to the full size image available by clicking the picture and links to the source by clicking the text. My (sparse) comments upon the tags are in italics. A few conclusions drawn about this type of seal tag are given at the end.

examples of separate parchment seal tags
Roger, Margery and Milo de Bray giving land to Priory of Haliwell.
Haliwell Priory, Middlesex, ca. 1181-1188
Manuscript: In Latin on vellum, 13x14 cm (including 3cm fold)
Seals: red wax, diameter 5 cm (Roger), 6x4 cm (Margery).
(Schoyen MS 1648)
Sealed charter of 'Count Robert son of Count John'
(Count Robert of Alençon, d.1217) for the abbey of St-André-en-Gouffern
Caen, c1191-1200.
(AD Calvados H 6512, no. 4)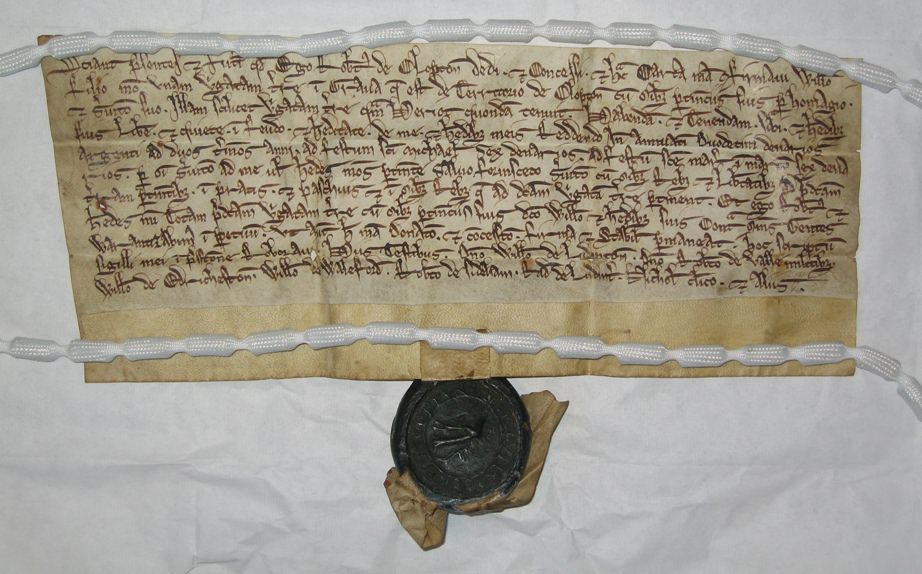 The "Clopton Charter
"
13th C
Manuscript: Vellum, approx 11cm by 25 cm.
Text:Latin, records a grant of land by Robert de Clopton to his son, William.
Seal: image of a bird, approx 4cm diameter.
Letter patent of Henry III in favour of his half-brother William de Valence
13th C
Doccument
mid-late 13th C
Seals: Henry of Bishopthorpe and his wife Matilda, probably manufactured as a matched pair
(British Public Record Office DL 25/3089)
Inspeximus by Bishops of Durham, Ely & Coventry witnessing Edward I ending alliance with Guy of Flanders against Philip I of France.
Wasingham, England, 6 February 1297,
Manuscript: French and Latin on vellum, 36x51 cm (unfolded),
Seal: red wax seal bishop of Durham,
Tags: partial seal tag and slit for 3rd seal tag.
(Schoyen MS590/26)
An inspeximus is apparently essentially the medieval equivalent of a statutory declaration - these bishops of good standing bear witness that they saw the original document.
Deed of gift from John Morel to his son, William Morel, of an assart of land
Stafforshire, c1300
Manuscript: 175x145mm with elaborated initial.
Tag: original seal tag
Seal: loose fragment of a brittle white wax seal
Doccument
July1374 - 1375
(Swedish archives DS8682)
Document
Torun, Poland, 1364
Signatories: Earl of Northampton & four English knights
Seals: Central seal in English style, others manufactured in Poland in Polish style
(London Public Record Office DL 25/1639)
Document
1392
(British Public record Office E 329/228)
Robert Stewart, Governor of Scotland confirms land grant held by William de Crawfurde
Falkland, Scotland, 24 April 1417.
Manuscript: Vellum, 21x33 cm (unfolded)
Seal: Great Seal of Scotland, white wax, diam. 10 cm.
(Schoyen MS 1656)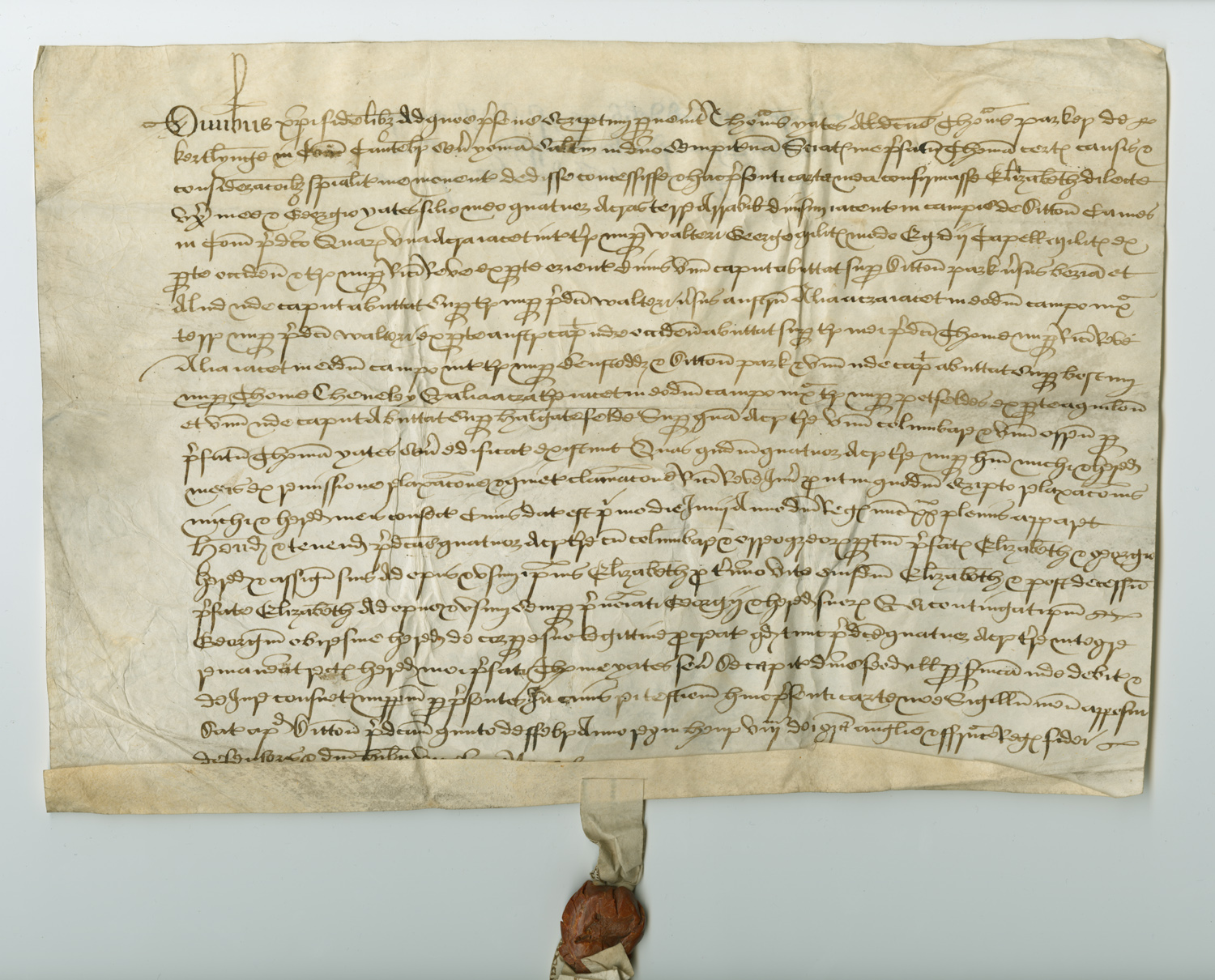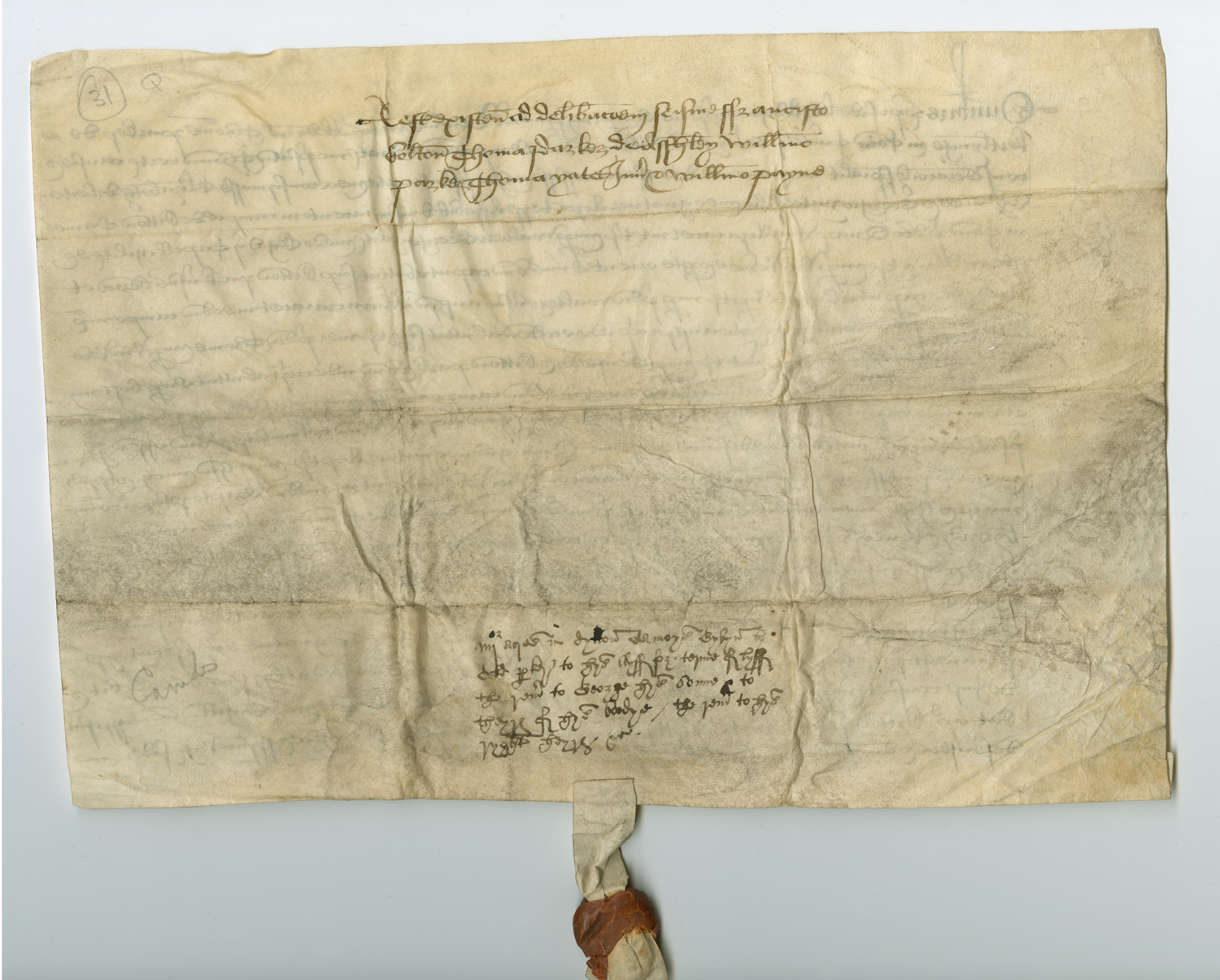 Feoffment by Thomas Yates alias Parker to Elizabeth, his wife, and George, his son, of lands in Ditton Camoys, Cambridgeshire.

Ditton Camoys, Cambridgeshire 5 Feb. 1537/38
Manuscript:
Deed poll.
Seal:
red wax seal, cracked, depicting coat-of-arms
Tag: made from waste parchment, reading: "[...] del[..] ad qua[...] Gilbertus Randolph de [...] Gilbertus [...] relaxasse ac [...]."
(McMaster University British Legal Instruments Collection No. 31)
Note the tag made from waste parchment
, with the writing mostly hidden on the inside - a fairly common practise. You can fairly clearly see the folding pattern of this document, and writing on the back, presumably an address or summary.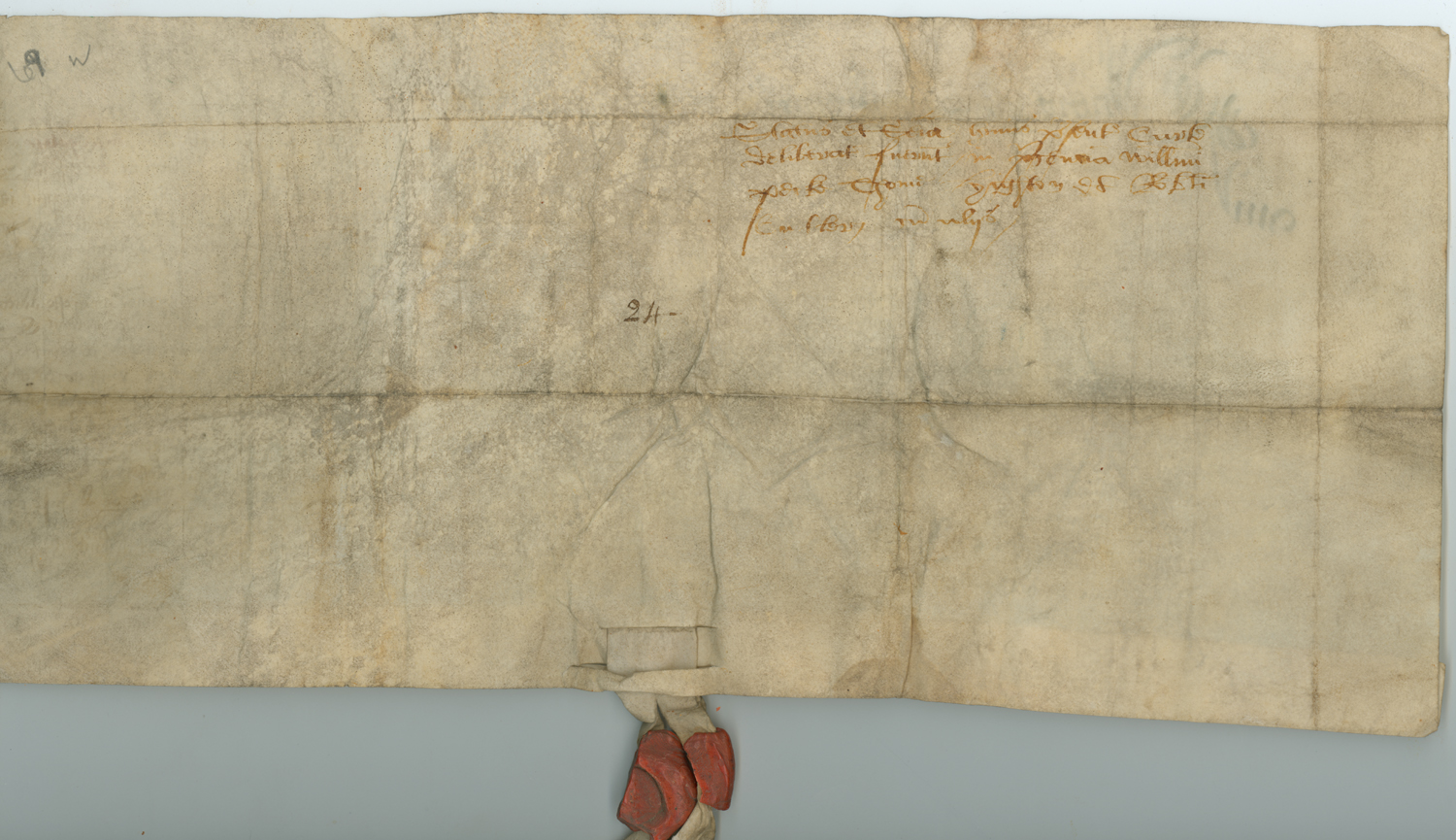 Feoffment by Margaret Maunge to John Gosling of a messuage and lands in [Winterton?,] Norfolk.
1550

Manuscript: Deed poll.
Seal: red wax, cracked, half missing.

(McMaster University British Legal Instruments Collection No. 65)
Adam Bothwell, Bishop of Orkney appoints Francis Bothwell to Chaplaincy of St Lawrence.
Kirkwall, Orkney, 3 April 1565
MS in Latin on vellum, 18x45 cm, (unfolded), episcopal seal of Adam Bothwell, (red wax diam. 6 cm)
(Schoyen MS 1676/1)
Who said nepotism was a new thing?
Indenture (title deed) to lands in Tenterden, Kent.
3rd of April 1574.
Vellum 14.5x30.2 cm. Mostly undamaged wax seal on original vellum tag.
(Griffin Manuscripts sale catalogue Number 24103)
Devise of land by John and Mabell Huntley
to Hugh Huntley, their son
1 January 1577/8
Manuscript: Vellum, 15 5/8" x 10 3/4".
Seals: Two pendant seals, one fragmentary.
King James VI of Scotland grants property to John Anderson.
1599
Manuscript: Ink on parchment, 45 cms. X 18.8 cms.
Seal tag: Parchment 21cm in total length.
Seal: Tan-colored wax double sided royal seal, approx 14cm original diameter, only upper right quarter remains.
Some conclusions on the style
From this very small sample we can see that this form of tag started to become common during the 12th C and continues throughout the medieval and Renaissance periods. The development of separate parchment tags was to quickly become the most common type of seal tag. As well as being stronger and more secure than the integral seal tag, this style also had the advantage of multiple seals being easier to add, a practise which reached ridiculous heights by the 13-14th C. This little slip of paper is the most common style of tag of all styles found - it has by far the most examples extant, far more than integral tags or all the styles of fibre seal tags put together.